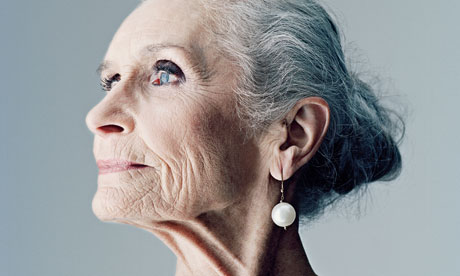 Daphne Selfe: 'Everyone can look lovely.' Photograph: Nick Ballon
The older model: Daphne Selfe
Do models eat biscuits? Daphne Selfe does. "And cake," she says – "Are you sure you won't have a sandwich?" – before we sit down in the living room of her Hertfordshire home.
You may recognise Selfe from the fashion pages of the Guardian, or from Vogue, advertising campaigns and style magazines such as Dazed & Confused. She has been shot by Mario Testino, Rankin and Nick Knight. She is 83, and last year appeared more in demand than ever.
Her long silver hair has become her trademark, though today it's pinned back. "I think it's fine for a woman of my age to have long hair," she says, "but I think we should wear it up." She's happy to talk and talk, so I let her get on with it while I study her face. Her cheekbones are sharp, her blue eyes shine and her skin looks lived-in and luminous. Her secret? "I have an Irish family behind me, which is good for looks," she says with a smile. "But everyone can look lovely. It's what's in your head that counts – your outlook."
As a young woman, Selfe wanted to work with horses and helped run a riding school. Then she moved to Reading and got a job in a department store. When a local photographer organised a modelling competition, the shop girls applied and Selfe won. After that, she trained with an agency – "We were taught how to walk, how to do hair and make-up, because in those days you had to do all that yourself. It's not like now, when you have all these people to transform you."
Around the same time, she met her future husband, Jim. Soon after, they were married with three children, and Selfe gave up modelling. Did she miss it? "No! With three children? That was what you did. You expected to give up work when you got married."
In the 60s, Selfe considered going back to modelling and approached a few agencies. "No way," she says, with a dramatic eye roll. "They didn't like the look of me. It was people like Twiggy and Jean Shrimpton. I just didn't fit." Was it a terrible rejection? "No! As a model you have to learn to be rejected. I know if I do five auditions, I might get one. And if I don't, so what?"
Not until 1998, aged 70, did Selfe – by then a widow – get her big break. The label Red Or Dead was looking for older models for its London fashion week show and Selfe, who had stayed registered with an agent, was cast. The stylist suggested she contact Vogue, which was working on an issue celebrating age. At the shoot, she met a scout for Models 1. "And I haven't looked back."
The fashion world has changed since she first became a model. Then she was a size 12 – "A strapping girl" – but now the standard size is a six or eight. "That's much too thin. If you're very tall, you've got to have some flesh on you. I don't think being too thin is awfully pretty."
She has undoubtedly stood up for diversity in a world that venerates youth. "People now get to 40 and think, 'Oh my God', but so what? Everybody has to get old."
We are not used to seeing older people presented in a sexy way – and Selfe has done some sexy shoots. She nods. "I don't mind. I used to be an artists' model. What upsets me is the way older people don't bother any more. I never go out without make-up. I do my hair."
She would never have cosmetic surgery. "Or Botox. I think it's a shame. Somebody I know went to America and they said, 'All these people with these fabulous faces, then you see them on the beach and they've got wrinkly bodies.' Why?" Selfe puts her good skin down to her genes, exercise, good diet and skincare. Does she mourn her youthful beauty? She shakes her head. "Age just makes you a bit slower." She thinks for a while and then smiles. "I can't wear high heels now, but I'm not bothered."
What makes a good model, and whom do you admire?
Bone structure, attitude – and a good agent. You've got to be very adaptable. I like Gisele Bündchen.
What have you eaten today?
Every morning I put carrot, celery, apple and ginger in my juicer, and I make my own muesli. I'll have a proper lunch – chicken or salmon with rice and lots of vegetables. I don't eat as much red meat as I used to. I'll have a piece of cake at tea, then soup for supper. I drink a lot of water, but I barely drink alcohol now. I might have a quarter of a glass of wine at dinner.
What was your worst job?
An ad I did for Bupa – I was photographed in a swimming pool with no heating.
Would you recommend modelling as a career to your granddaughter?
Yes. It's fine as long as you know what you're letting yourself in for, are strong-minded and take it with a pinch of salt. Some people [in the fashion industry] can be very rude.
Who is your favourite designer?
Etro – it's bohemian but wearable. I like unusual clothes. I don't like to go out looking frumpy.